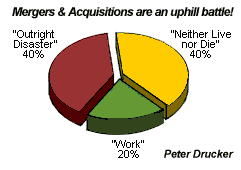 Mergers, Acquisitions, and Integration (MAI)
Mergers can be a powerful business strategy to enable growth objectives. However, the challenges to achieving a successful merger or acquisition are formidable.
Reasons for failure include:



"People problems" (inability to bridge the gap between contrasting values and beliefs)


Lack of understanding of the acquired company


Lack of of clear purpose or plan for acquisition


Inadequate financial analysis and a lack of synergy.
Have you assessed the success factors critical to your merger/acquisition?


| | |
| --- | --- |
| | Who is your trusted advisor and is their incentive tied to an acquisition decision? |
| | Does your valuation reflect operational realities and market risks? |
| | Have synergies been clearly articulated and estimated? |
| | Are you prepared for cultural issues involved with integrating a business? |
| | When will benefits hit your bottom line? |

O&A's keen insight and fact-based approach has generated millions of dollars for Georgia-Pacific
-D. Huff, CFO

The outcomes are better acquisition decisions and more successful business integrations. As a result:


| | |
| --- | --- |
| | Management teams are aligned to a consistent decision making process |
| | Risks are understood |
| | The value of an acquisition or merger is significantly increased |